(this site is under continuous construction- if you need immediate assistance, tigerteam1@gmail.com or 858-274-9678)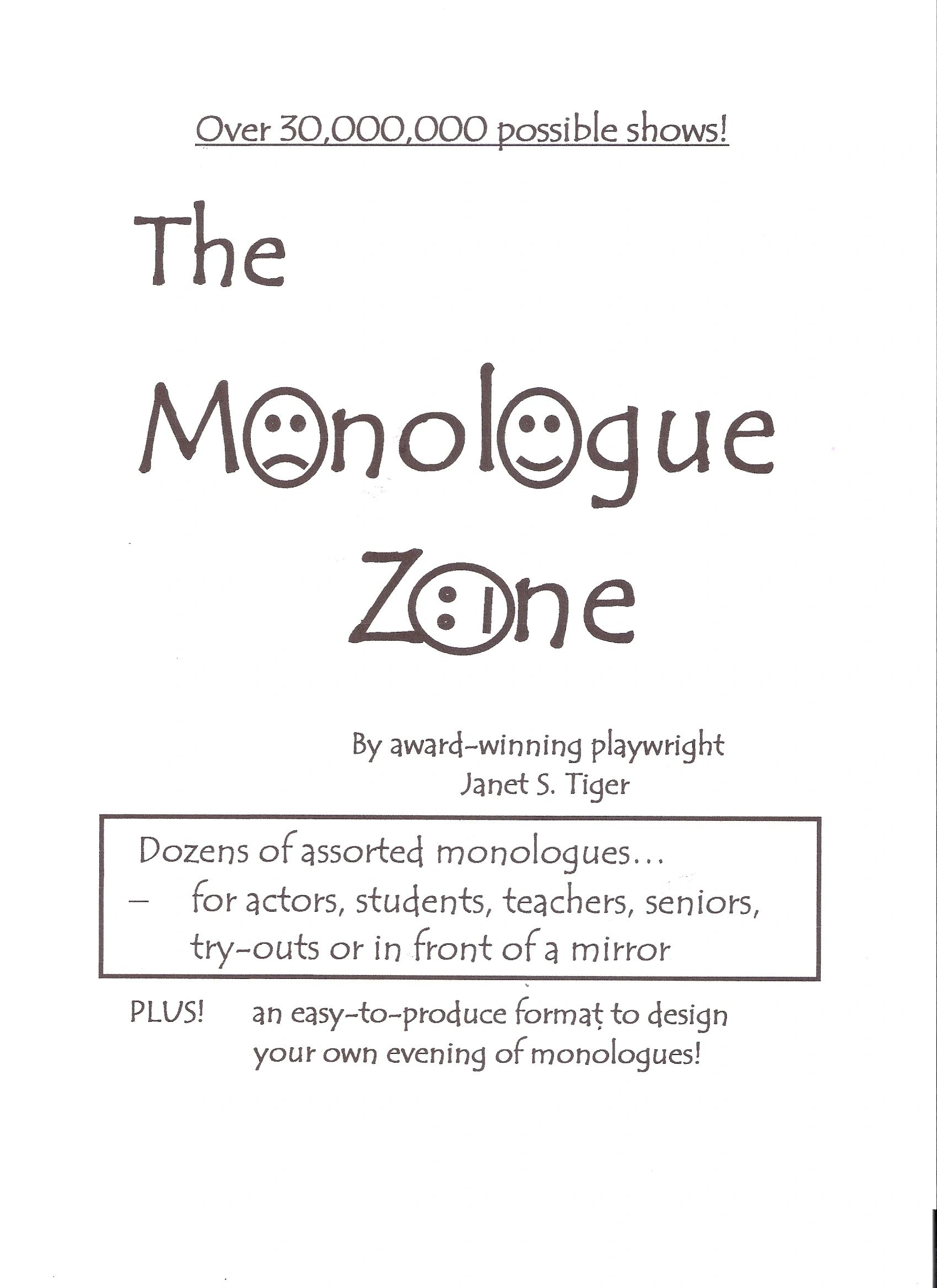 For contents of The Monologue Zone,
click here
For testimonials click here
How this works -
--You can purchase one copy via email (no shipping!) or
--you can have a license to print multiple copies for your class, theater group or organization.
(If the number of copies you need is not listed in the drop-down box, please email tigerteam1@gmail.com or call 858-274-9678.)
If you would like to produce THE MONOLOGUE ZONE, royalty rates will depend upon your theater group, ticket/donation price, number of performances, etc. If you are performing the plays publicly with no ticket price or donation requested, the only requirement is notification of the author and full credit given on all programs, publicity, etc.
(Please email tigerteam1@gmail.com or call 858-274-9678 with questions. I am flexible!)
You are now entering....
the Monologue Zone.(cue music)
It is a place where YOU will be the center of attention. The lights will darken, and you will be in the spotlight. The entire theater has their eyes on you - the director is waiting for your audition to being- everyone in your class is waiting for you. You begin, and your monologue works! Everyone loves it - you win the prize, you get the part, and most of all -you hear applause, long after the monologue is over. And it all starts with...a great monologue.

If you have arrived at this site looking for real monologues, you are in the right place.
This is not a portal site, this site has -
monologues for auditions,
monologues for contests
monologues for classes
monologues for seniors
monologues for teenagers
monologues fo all ages
and just for fun!
(By now you have the idea that this site has monologues-
and Janet S. Tiger even does custom monologues, too.)
There are pages with
tips on how to choose a great monologue
, even
tips on how to write a monologue
.
These are monologues by playwright Janet S. Tiger that have won prizes,
have won great roles
and have been performed all over the world thousands of times -
including Kennedy Center
Off-Broadway in New York
Los Angeles
San Francisco
San Diego-
and even Dubuque, Iowa , Burma, South Korea, Israel, New Zealand, Canada
among others
THE MONOLOGUE ZONE has been produced to excellent responses - to see one of the first productions,
click here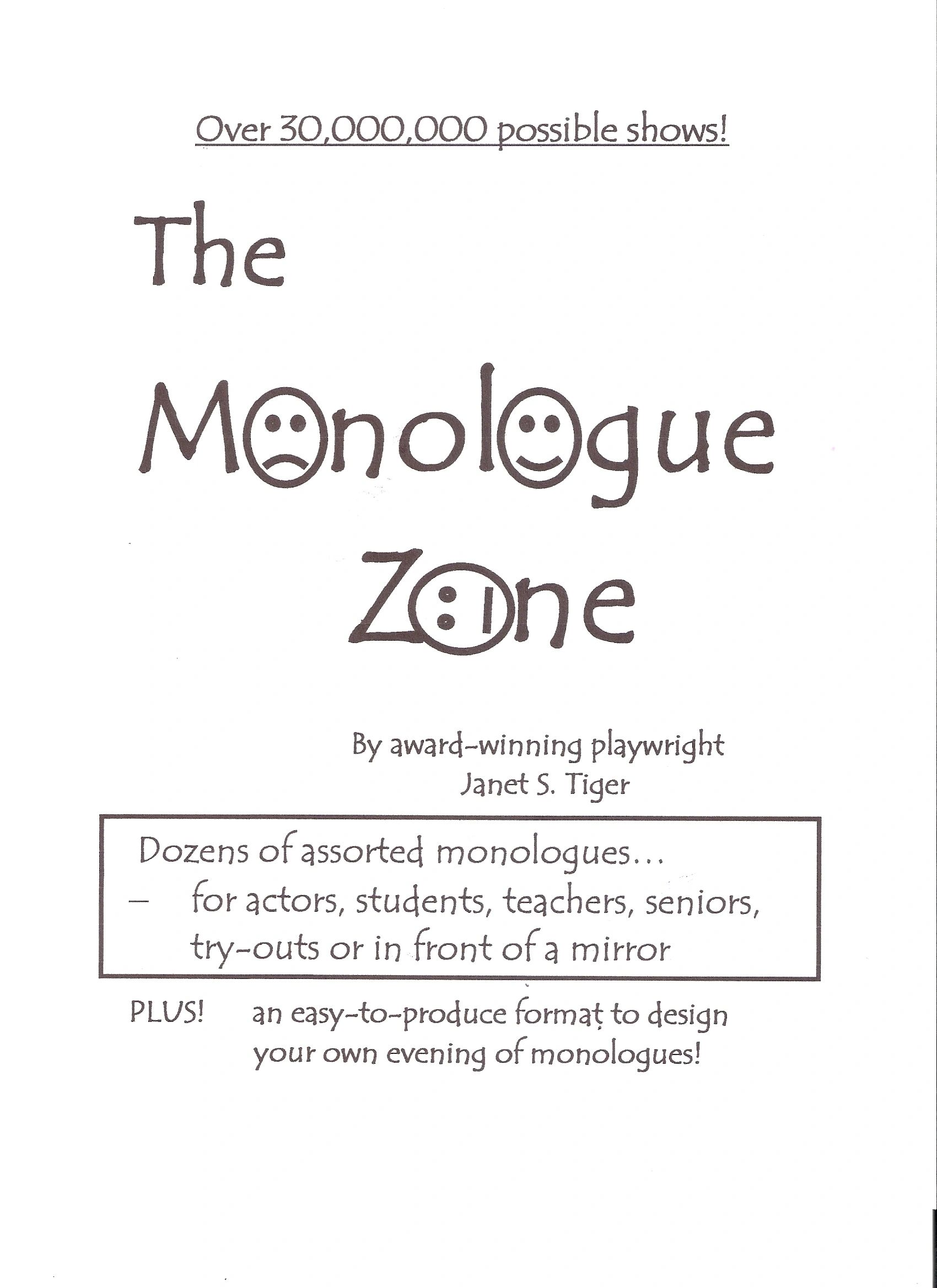 ---------------------------------------------------------
Here's how you can figure out how many shows are possible-
There are 32 monologues in this collection- if you take that number -
32 factorial = 2.63130837 × 1035

That's a lot of plays possible- Even if you only do half of them!
Because most people don't relate to numbers in this form, I put over 30,000,000
Other work by Janet S. Tiger
Monologues for Auditions
Sample Monologues
Other work by Janet S. Tiger can be found if you click on these links -
One-act plays
Full-length plays
Holocaust-related plays